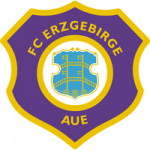 FC Erzgebirge Aue
Aue
AUE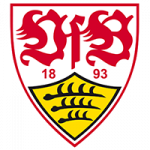 VfB Stuttgart
VfB Stuttgart
VfB
| SCHIEDSRICHTER | ZUSCHAUER |
| --- | --- |
| Sven Jablonski | 10000 |
| | | |
| --- | --- | --- |
| - | Tore | 4 |
| 15 | Torschüsse | 6 |
| 5 | Ecken | 2 |
| 14 | Fouls | 13 |
| 61.30 | Ballbesitz in % | 38.70 |
| 1 | Abseits | - |
| 3 | Gelb | 2 |
| - | Gelb-Rot | - |
| - | Rot | - |
AUFSTELLUNG

| | | |
| --- | --- | --- |
| 34 | TO | |
| 3 | VE | |
| 20 | VE | |
| 21 | VE | |
| 24 | VE | |
| 5 | MF | |
| 6 | MF | Mirnes Pepic |
| 16 | MF | Mario Kvesic |
| 33 | MF | Christian Tiffert |
| 8 | ST | Nicky Adler |
| 30 | ST | Dimitrij Nazarov |

ERSATZBANK

| | | |
| --- | --- | --- |
| 31 | TO | |
| 4 | VE | |
| 17 | MF | Philipp Riese |
| 19 | MF | Cebio Soukou |
| 27 | MF | Louis Samson |
| 9 | ST | |
| 18 | ST | |

TRAINER

AUFSTELLUNG

| | | |
| --- | --- | --- |
| 1 | TO | |
| 2 | VE | |
| 5 | VE | Timo Baumgartl |
| 21 | VE | |
| 35 | VE | |
| 15 | MF | Carlos Mané |
| 20 | MF | Christian Gentner |
| 25 | MF | Matthias Zimmermann |
| 31 | MF | Berkay Özcan |
| 9 | ST | |
| 11 | ST | Takuma Asano |

ERSATZBANK

| | | |
| --- | --- | --- |
| 13 | TO | |
| 4 | VE | |
| 6 | VE | Jean Zimmer |
| 16 | VE | |
| 19 | VE | Kevin Großkreutz |
| 7 | MF | Hajime Hosogai |
| 8 | MF | |

TRAINER
TORE
13. Min

5

Baumgartl

21

Pavard
24. Min

20

Gentner

11

Asano
67. Min

15

Mané

9

Terodde
76. Min

15

Mané
AUSWECHSLUNGEN
45. Min

31

Özcan

19

Großkreutz

16

Kvesic

19

Soukou
72. Min
73. Min

11

Asano

6

Zimmer
80. Min

20

Gentner

7

Hosogai

30

Nazarov

17

Riese
82. Min

33

Tiffert

27

Samson
83. Min
KARTEN
| | | | | |
| --- | --- | --- | --- | --- |
| 18' | | 30 Nazarov | | |
| | | 25 Zimmermann | | 40' |
| | | 15 Mané | | 41' |
| 43' | | 8 Adler | | |
| 75' | | 6 Pepic | | |
30

Nazarov
18. Min
40. Min

25

Zimmermann
41. Min

15

Mané

8

Adler
43. Min

6

Pepic
75. Min
WEITERE DATEN EINBLENDEN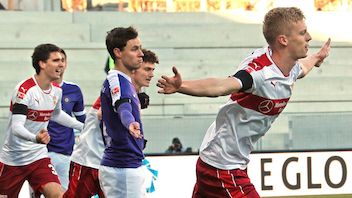 A well-organised and effective team display saw VfB earn a clear away win at FC Erzgebirge Aue on Sunday. The three points from the 4-0 victory sees Hannes Wolf's men initially take top-spot in the table. Christian Gentner & Co. laid the groundwork for the win in the first-half. One man celebrated his first goal for the Cannstatt Boys in the top-flight, whilst another snagged a brace.

Personnel

Compared to the side that began in the 3-1 win over 1. FC Nürnberg, Hannes Wolf made one change to his starting eleven, with the injured Alexandru Maxim (muscular problems) being replaced by Berkay Özcan.
| | |
| --- | --- |
| 13th minute | As was the case last weekend, VfB get off to an incredible start and again take the lead within the first quarter-hour. The first corner of the game sees Berkay Özcan put the ball into the box, where Benjamin Pavard nods onto the back post for the unmarked Timo Baumgartl to make it 1-0. |
| 16th minute | Fortune favours the Wasenelf shortly after they take the lead. A lapse in concentration in the VfB defense allows Aue's Mario Kvesic get a shot in from the edge of the box, but Mitch Langerak fingertips the ball away. |
| 24th minute | VfB increase their lead. A cross from Takuma Asano on the left is met by Christian Gentner at the back post to make it 2-0. |
| 46th minute | At the beginning of the second-half, Kevin Großkreutz replaces Berkay Özcan. The hosts put the pressure on and have two early chance on goal, but Mitch Langerak & Co. clear the danger. |
| 67th minute | Finally the third goal for VfB on Sunday afternoon! Simon Terodde plays a pass to the unmarked Carlos Mané and the Portuguese attacker makes it 3-0. |
| 76th minute | Carlos Mané is on target once again. A cross from Emiliano Insua is touched on to the attacker, who duly makes it 4-0. |
| 90th minute | Very little action in the closing phase. The Cannstatt Boys play out their clear advantage and happily take all three points away from Erzgebirge. |
Timo Baumgartl:

It was a clear win, but we shouldn't over-evaluate the result. We were ice-cold in front of the opposition goal but there were moments during the course of the game during which we allowed our opponents far too much space. It was an end-to-end battle early in the second-half. There are a number of issues that we really must work on.
Summed-up

VfB secured three further important points on Sunday and thus initially take top-spot in the table (Braunschweig play on Monday night). Hannes Wolf's men made use of their chances and allowed very little through at the back. In the end it proved a clear and never truly contested victory.