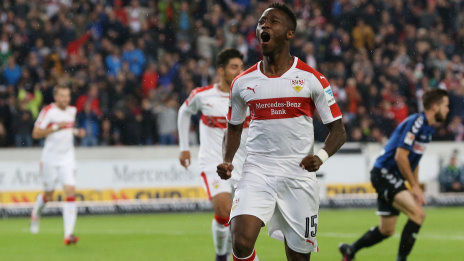 On Monday evening, it to Carlos Mané just four minutes of the game against SpVgg Greuther Fürth to set a brand new record in the top two flights of professional football in Germany. The data service provider Opta posted a Tweet directly after the game:

4 – Carlos #Mane was the fastest player to score 2 goals on a league debut in 1st & 2nd German Bundesliga (after 4 Minutes).
"I am naturally delighted about my start with two goals," admitted Carlos Mané following the 4-0 win over Greuther Fürth, and added: "The most important thing though is that the team won. It was a success for the entire team. We all work very hard in every training session in order for us to win our games." The 22-year-old saw his efforts towards the win as moderate: Joy – yes, but no euphoria. During the course of the game, the Portuguese attacker closed in on a new record with his team. According to Opta, the last time VfB took a quicker 3-0 lead in a game was against Offenbach back in 1972. On that occasions, the 'Wasenelf' needed just 19 minutes to takje their three goal advantage, against Fürth it took 24 minutes. A further fact to swell the hearts of VfB fans with pride.

For Carlos Mané & Co. the statistics are no reason to get above themselves. The VfB players who have remained in Stuttgart will continue working during the Bundesliga's international break to further internalise the mechanisms and improve the existing potential. There is also a charity game on the schedule for the Cannstatt Boys this Saturday. In Künzelsau, coach Hannes Wolf's eleven will take on 'Oberliga' side FSV Hollenbach, to raise money for the victims of the floods in Kochertal (kick-off 14:00 CET).

The coming week will have its challenges for Carlos Mané both on, as well as away from the pitch. Currently the Portuguese speaking VfB co-trainer Miguel Moreira is assisting the young attacker with communication issues. "Miguel Moreira is currently very important to me, because he speaks my language. I have already had my first German lessons though and I want to learn to speak the language as quickly as possible," commented the pacy front-man. If Carlos Mané is as quick learning vocabulary as he is scoring goals, he really shouldn't have many problems!