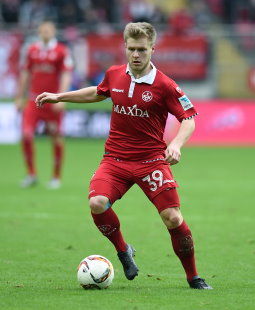 Jean Zimmer makes the move from FCK to VfB.
VfB sign Jean Zimmer
The 22-year old can operate flexibly on either wing. So far this season, Zimmer has made 22 '2. Bundesliga' appearances for FCK, scoring one goal. The former U21 international learned his trade at 1. FC Kaiserslautern, for whom he has been active since 2004. In December 2013, he then made his debut for the 'Roten Teufel' in Germany's second-flight. Since the 2014/2015 campaign, Jean Zimmer has been a set part of the FCK first-team squad, making 56-second division appearances, as well as playing five games in the DFB-Cup.

As from the start of the coming season, the young winger will don the shirt with the infamous red hoop, having signed a four-year contract with VfB. Details of the deal have not been disclosed by either club.

VfB would like to take the opportunity to extend a warm welcome to Jean Zimmer and we look forward to working together from the 2016/2017 season.

"Jean is quick player with a really good mentality, who can play in a number of different positions. We have been observing his progress extensively for quite some time and we firmly believe he will continue his positive development further at VfB", stated VfB Sporting Director Robin Dutt.