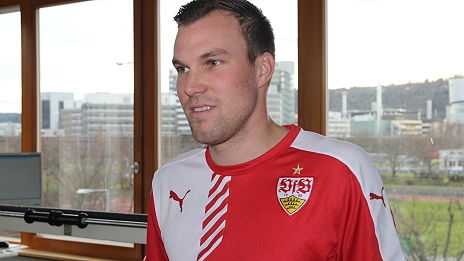 Kevin Großkreutz is happiest on the wing! Whether on the left or right, in defence or attack, the 27-year-old can be implemented as a versatile option. "Along with the Premier League, the Bundesliga is one of the strongest leagues in the world. The anticipation of achieving our goals together at VfB is massive," stated Kevin Großkreutz – not least as the past few months have been anything other than satisfactory for the former BVB man. Knocked out of his stride by injury at the beginning of last year, the past half season in Turkey's Süper Lig with Galatasaray Istanbul did not go according to plan for the winger.

The fact that he has the quality to boost his side is something he proved impressively during his time at Borussia Dortmund in the Bundesliga. In almost 200 games for BVB, Großkreutz twice lofted the Bundesliga title, whilst also twice winning the Supercup and claiming one DFB-Cup success. In addition, he was also a World Cup winner with Germany in 2014.

VfB's number 15

"I am delighted about this new challenge and about getting to know the whole team," commented Kevin Großkreutz in Belek on Wednesday. Two of his "new" team-mates will be familiar faces from his Dortmund days. VfB goalkeeper Mitch Langerak and also Daniel Ginczek spent time with Großkreutz at Borussia. The 27-year-old will wear the number 15 shirt at VfB Stuttgart.