VfB Stuttgart have joined eight other Bundesliga and Bundesliga 2 football clubs in helping small farmers in India convert to organic cotton farming. The five-day trip to the Rapar project region in the western Indian state of Gujarat is part of an initiative which VfB have been pioneering since spring 2022.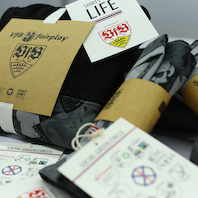 One of Germany's most sustainable fan shops
VfB are committed to sustainable textile products and supply chains certified in line with the Fairtrade Textile Standard. Stuttgart supporters can recognise such items through their product seals: Products that have been awarded the GOTS (Global Organic Textile Standard) seal of approval have all been manufactured sustainably, while the Green Button seal confirms that company criteria related to human rights, social and environmental responsibilities have been met. VfB's fan shop is the most sustainable in Germany, alongside the stores of FC St. Pauli and Hamburger SV.
About the project
The "Vom Feld in den Fanshop" ("From the pitch to the fan shop) project was launched by the German Federal Ministry for Economic Cooperation and Development (BMZ) alongside textile company BRANDS Fashion. The three-year agreement includes providing training in sustainable cultivation practices and enabling access to better-quality seeds. By increasing the supply of, and demand for, organic cotton, the aim is to improve the living conditions of families in cotton-growing regions. A future goal is to source cotton from the project and use it for VfB merchandise.
Questions for Mathias Diestelmann, CEO of BRANDS Fashion GmbH
Hi Mathias, you've been working with VfB Stuttgart for 10 years, during which you've increased environmental and social efforts among the supply chains of the textile industry. Your next project is called "Cotton in Conversation". Why did you opt for that?
Mathias Diestelmann: "On the one hand, the demand for organic cotton has increased in recent years. On the other, the conversion from conventional to organic cotton is becoming more expensive for small farmers. The risk of crop failure, for example, has increased significantly, which can quickly lead to smallholders abandoning the conversion process. That's why we're happy to have found a cooperative in the Indian state of Gujarat whom we are guiding through the process."
What's in store for you in India over the next few days?
Mathias Diestelmann: "We'll travel to Gujarat together with all participating associations – GIZ, BMZ and Fairtrade – and visit the cotton cooperative on site. We'll also supervise a sports festival in order to bridge the gap between cultivation, production and sport. The clubs will remain active here in the coming years along with GIZ's Sport for Development initiative."