Hannes Wolf took charge as head-coach at VfB in September 2016 and has since then guided the team through 29 competitive games (28 '2. Bundesliga' and one DFB-Cup). Last season, the 36-year-old claimed the second division crown with the Cannstatt Boys and now faces his premier season as head-coach in the Bundesliga.
The contract with co-trainer Miguel Moreira has also been extended until June 30th, 2019. Miguel Moreira made the move from Borussia Dortmund to VfB together with Hannes Wolf.
Jan Schindelmeiser, Vorstand Sport:
"Our work together with Hannes Wolf until now has been characterised by a great deal of mutual trust and fundamental conviction. To extend this co-operation beyond June 30th, 2018 is an expression of our wish to maintain continuity in this very important position. We intend to continue working very closely together in order to achieve further success."
Hannes Wolf, head-coach:
"Over the past ten months we have enjoyed a great deal of respect and trust from the team, the people within the club and the inhabitants of the city. It is with great joy and privilege that we continue on the road we have taken with VfB Stuttgart. We will do everything in our power to justify the responsibility connected with that and to continue upon our route successfully."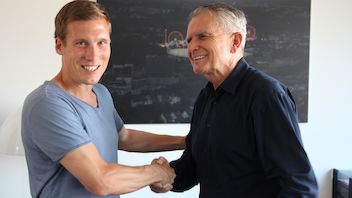 Wolfgang Dietrich, President and Chairman of the Supervisory Committee:
"The Supervisory Committee expressly greets the decision of the board to agree an early contract extension with Hannes Wolf. I personally am very happy to have made this vitally important decision following some very positive talks with the coach before the season gets underway. This is the best possible solution for all parties."