The pre-season preparation period is always one in which the team must find itself as a functioning unit and ultimately get together. New players are added to the mix and must be integrated into the team structure. The 'Process of Integration' is something Simon Terrode had to go through last season, having made the move from VfL Bochum to VfB in the summer of 2016. "I needed a little time to get settled at the beginning. That's quite normal," explained the 29-year-old. And the fact that the striker fits in perfectly was confirmed throughout last season with strong performances and plenty of goals. He is now one of only three players to have claimed the top-scorer crown in the '2. Bundesliga' in two consecutive seasons. "The fact that I could continue my goal ratio with VfB, following the previous two seasons in Bochum, is something of which I am very proud. I was able to play my part in ensuring our promotion," beamed the Cannstatt Boys number 9.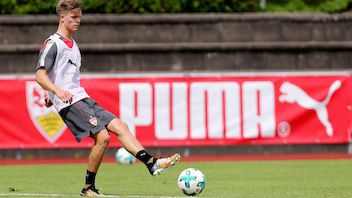 New VfB signing: Dzenis Burnic
"Exemplifying the discipline"

Simon Terodde's joy at winning promotion has now made way for his anticipation of the upcoming Bundesliga season. "Every player at this club is hugely excited about the prospect of testing himself against the best players in Germany." Before that's the case though, the Cannstatt Boys must get in form. "The focus right now and over the coming weeks is totally on working. Every training session is important. We've a lot to acquire," insisted Simon Terodde. As an experience player with several years of professional football behind him, the striker sees himself in the role of helping integrate the young players into the team, just as it was done with him last season. "It's all about exemplifying the necessary discipline and to help the lads find their feet as quickly as possible," said Simon Terodde.

One player who has only been within the VfB set-up for a couple of days, but already considers himself to be settling in very well is Dzenis Burnic. The 19-year-old is at VfB on a one year loan deal from Borussia Dortmund. "The lads have welcomed me very warmly," explained the midfielder in an interview with VfB TV, continuing: "I am looking forward to the time ahead, when we continue to work hard on the processes." And Burnic is also excited about his new sporting home – having linked up with the team at the training camp in Grassau at the beginning of the week. "I am really looking forward to getting to know the club grounds, the Mercedes-Benz Arena and the city of Stuttgart," stated the 19-year-old.